A Tarzan Oil Painting by Cynthia Sheppard just gave me goosebumps . . .
Every once in awhile you come across something that is so right and true and beautiful that it stops you in your tracks and gives you goosebumps.  That just happened for me five minutes ago when an email landed in my in-box from ERBist Bob Zeuschner, replying to a post on the ERB Chain of Friendship List which I had missed.  The original post was by Charles Madison, so I want to thank him as well.
Anyway — behold — Tarzan and the Light of Knowledge by Cynthia Sheppard — then scroll down to learn about what went into making it.
What can I say, except that J. Allen St. John and ERB himself would be extremely proud of this one.
Cynthia Sheppard has posted a lengthy, very intriguing blog post about the whole process she undertook to come up with this.  I found that equally fascinating– and it includes numerous sketch studies, and work-in-progress images which really help the reader understand how much goes into something like this.
Here is an excerpt and a link — presented with a huge thank you first to Cynthia, but also to Charles Madison and Bob Zeuschner for flagging this for us:
Tarzan and the Light of Knowledge by Cynthia Sheppard
Here it is! My finished oil painting from the 2012 Illustration Master Class:
…And if you think this painting came easily, it didn't. Here's the full story:
Out of about 7 assignment choices, I chose to illustrate Tarzan. It's the centennial anniversary of Edgar Rice Burroughs' original novel Tarzan of the Apes, and having grown up with the Johnny Weismuller Tarzan and Greystoke, I thought I was set to start working on thumbnails, so I did. Then, about two weeks before the Master Class, Noah Bradley mentioned how different the original story was from the movies, and I decided I needed to read the book. It helped me understand the character so much better, and I did some more thumbnails: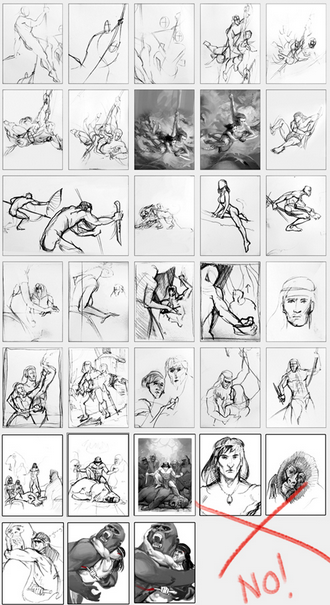 I fleshed out 3 of the thumbnails, and the overwhelming response from my critique group each time was… "these are terrible." Sometimes honesty is easier to swallow than others- this was one of those times when it wasn't. I hadn't slept well in two weeks, as I was under a lot of pressure to meet a giant pile of deadlines before the Master Class. At one point I actually broke down and cried. Finally, my good friendMarc Scheff got on Skype with me and gave me a pep talk. For some reason when he said "be yourself," it just made sense…
I couldn't shake the feeling that Jane was a weak character, and that Tarzan was more than just a vine-swinging brute. So I threw all those ideas out and strayed from the assignment a little bit. The language acquisition parts of the story were some of my favorites, and some of the most telling about the capabilities of the Tarzan character- they were the most unbelievable passages, but it's a fantasy story, so there always has to be some suspension of disbelief.
Read the rest at Cynthia's blog — it's really fascinating and you can view her other excellent art as well.
Year of the Spy Book Trailer

Above is the Year of the Spy Book Trailer — for my upcoming non-fiction book about espionage upheavals on the streets of Moscow in 1985.

Below is a "trailer" showcasing the writing and video services I provide to clients.

Michael Sellers — Writing and Video Services
My eBook — Just released Dec 5, 2012

EBook

You don't need a Kindle or iPad -- Download

Adobe Digital Editions

for Free, then read the .mobi (Kindle Format) or .epub (Nook, iPad Format) digital book on your computer. Or order the PDF which is formatted exactly like the print book.